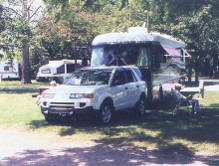 Located in the heart of Kendallville's largest city park, Bixler Lake Campground is dedicated to providing affordable, family-oriented camping experiences. Beautiful, wooded sites are available, and we accommodate group camping. Water and electrical hookups are provided, and a camp store offers firewood and ice. Showers and restrooms are handicapped accessible.
A wide variety of activities are available to the camper including fishing and swimming on 117 acre Bixler Lake. Modern playgrounds, ball diamond, nature trails, horseshoe, volleyball and many special events conducted by the Park & Recreation Department complete the list of things to do.
During the camping season, accommodations can be made at the campground by phone at (260) 242-6898. At other times, the Park and Recreation office can relay requests at (260) 347-1064. Advanced reservations are required for holidays with non-refundable deposit.
A map of Bixler Lake Campground is available to download and print here.
Fees for the 2023 season are:
Opens last weekend of April (weather permitting) thru weekend after Apple Festival (weekend is considered Friday-Saturday-Sunday) ** NO CAMPING BEFORE APRIL AND AFTER mid-OCTOBER **
Flexible check-in
Wood: $10.00 (20 pieces/bundle), 1/2 load $20.00 (40 pieces) or full load $40.00 (80 pieces)
1 RV and 1 small tent per site
To reserve ahead, you must pay for 1 night, non-refundable
Golf carts allowed if handicapped and a sticker is required
Rates:

Daily - $25.00/night + tax, primitive with no utilities
Tent and RV with hook-up (electric & water) $33.00/night + tax
Holidays and Apple Festival weekends - $28.00/night + tax
Holidays and Apple Festival weekends with hook-up (electric & water) - $36.00/night + tax
Monthly: $475.00 + tax

Not for tents. Tents can only stay a week at a time (6 nights constitutes a week). Tent campers must leave for 14 days before returning.
Includes hook-ups (electric & water).

Septic dumping - no charge for campers, $20.00 all others
Showers for non-campers - $5.00
All fees must be paid in cash, acceptable checks or credit cards. A transaction fee is charged for credit card purchases
Once you've experienced the quiet, relaxed atmosphere of Bixler Lake Campground, you'll want to return.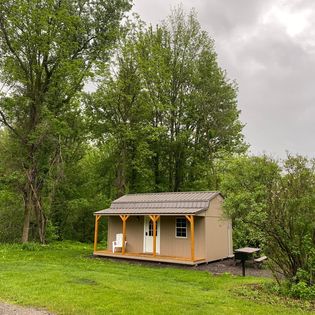 Cabin Rental
Each cabin will have a full bed with a twin bunk over it and a full size bed in the loft. There will be a small table and chairs, air conditioning, mini fridge, coffee pot, charcoal grill, fire ring and picnic table. You bring bedding, lawn chairs and be ready to relax around the campfire.
Cost is Sunday thru Thursday $45.00/night.   Friday & Saturday $55.00/night.  Holidays are $60.00/night.   Rates include applicable taxes.  
There is a 2 night minimum and a 6 night maximum. Check-in 3:00PM Check-out 11:00AM
Holiday weekend reservations require a full payment at the time the reservation is made. Non-Holiday reservations require half the rental fee as a deposit at the time the reservation is made. There are no refunds on cancellations made 7 days or less prior to you stay.
Cancellations made 8 or more days before your stay a $25.00 cancellation fee will be charged per rental unit reserved. Campground rules apply to cabin rental.
Smoking and pets are not permitted in the cabins.
Maximum occupancy per cabin is 5 (maximum number of adults is 3) unless approved by the Campground Coordinator. Responsible party renting the cabins must be at least 18 years old.
Kayaks may be rented from the campground office. More information can be found on our Bixler Lake Park page.